Easy & Elegant: a simple app(etizer) for the holidays and busy people.
Can you believe Thanksgiving is next week?!
When life is as busy, sometimes you just need easy. 
But that doesn't mean it still can't be elegant.  
Here's my favorite go-to appetizer recipe.  And bonus--it takes just a few minutes to put together.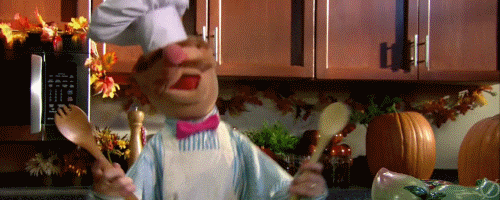 Puff Pastry Brie Appetizer
Ingredients:
8 oz brie cheese wheel or wedge
3 tablespoons fruit preserves
1/2 (17.5 ounce) package frozen puff pastry, thawed
1 egg white
Directions:
Prep time: 10 minutes
Cook time: 30 minutes
Preheat oven to 350 degrees.  Lightly grease a baking sheet with sides in case of leakage.
Liberally spread fruit preserves on the top of the brie wheel or wedge. Wrap the entire wheel or wedge of Brie with one sheet of puffed pastry.  Flip the entire concoction onto the prepared cooking sheet so the pastry seam is on bottom. Brush the puffed pastry with the egg white.  Get the egg whites between the pastry seams since the egg white acts like the "glue".
Bake for 30 minutes, or until the pastry in golden brown. Serve immediately with crackers, baked bread, apple slices, etc.
*There are many variations to this recipe. Some use crescent rolls or even phyllo dough as the puff pastry.  You can remove or leave the rind; it melts anyway.  The recipe calls for 3 tablespoons fruit preserves, but I suggest to use much more if desired. Get crazy and add nuts to the preserves.  And to avoid brie running when the pastry is cut, try scooping out the center and add more preserves if you like. You could even try replacing the brie with a different type cheese if you're really adventurous.
If you try this recipe, leave us a note on our Facebook page.  We want to hear about it!  Yum!  
Please reload